About CyberGISX
CyberGISX provides streamlined and user-friendly access to advanced cyberinfrastructure and cyberGIS capabilities with an integrated software stack for computationally reproducible research and education across a variety of geospatial-related domains.
To Register

You need to register before you can access CyberGISX. Use the "Register" button in the top menu to access the registration page and fill out the registration form. You will need to have a valid Github account to register.
After you submit the form you will be emailed a link to use to verify your email (be sure to check your spam or junk email folder). Click the link to verify your email. Then you will be added to a waiting list for approval and will receive an email after you have been approved.
Now, you can log in to CyberGISX using your Github ID. Click the "Log In" button in the top menu. On the next screen, enter your Github ID and password. Then your server will start up and you can access the CyberGISX Jupyter Notebook dashboard.

The Community Hub and the CyberGIS-Jupyter Portal
CyberGISX has two primary components, a CyberGIS-Jupyter portal, and a complimentary community hub.
The CyberGIS-Jupyter portal can be easily accessed through the "Log In" button on the main page. If you have recently logged in, you will be sent directly to the CyberGISX-Jupyter notebook dashboard.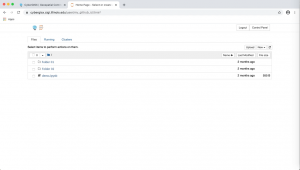 You can also access "Community Notebooks" on the main menu. Here you can see examples of CyberGIS-Jupyter notebooks that are available on CyberGISX.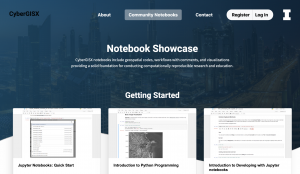 Launch an Example Notebook
To launch an example notebook from the community website, navigate to the notebook on the "Community Notebooks" page and select "See the notebook".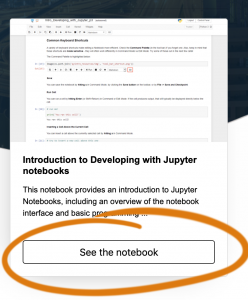 This will show the notebook description and an overview of the notebook. Clicking "Open with CyberGISX" will direct you to the notebook on the CyberGISX platform.